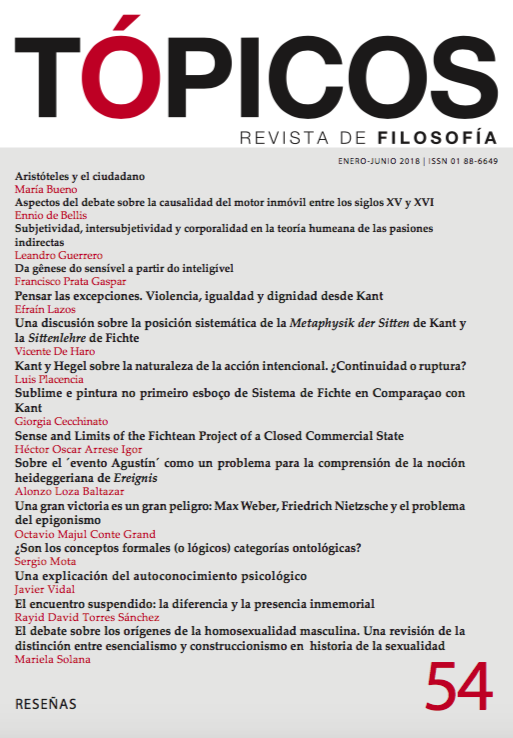 Publicado 2017-11-11
Cómo citar
Cecchinato, G. (2017). Lo sublime y la pintura en el primer esbozo del Sistema de Fichte en comparación con Kant. Tópicos, (54), 201–214. https://doi.org/10.21555/top.v0i54.869
Descargas
Los datos de descargas todavía no están disponibles.
Altmetrics
Citas
Resumen
Este artículo tiene un objetivo doble: se presenta en primer lugar la primera doctrina fichteana de las formas y los colores en la pintura, formulada en el escrito póstumo titulado Filosofia práctica. En segundo lugar, se traza un paralelo entre esta doctrina y la expuesta por Kant en la Crítica de la capacidad de juzgar. Al mismo tiempo que se señala la cercanía entre ambos sistemas, este artículo muestra la peculiaridad y originalidad de la doctrina fichteana.
Referencias
Cecchinato, G. (2009a). Fichte und das Problem einer Ästhetik. Würzburg: Ergon Verlag.
Cecchinato, G. (2009b). Zeit und Farben. Die Erhabenheit der ineinander fließenden Farben. In T. Kisser (Org.) Fichres erstem Systementwurf im Vergleich zu Turners Spätwerk. (223-236).Paderborn: Fink Verlag.
Chiereghin, F. (1991). Il problema della libertà in Kant. Trento: di Verifiche. Fichte, G. F. (2014). O destino do erudito. São Paulo: Hedra.
Fichte, G. F. (1962-2012). Gesamtausgabe der Bayerischen Akademie der Wissenschaften. E. Fuchs, R. Lauth, H., Gliwitzky, P. Schneider. (eds.) Stuttgart-Bad Cannstadt.
Fuchs, E. (1980). Fichte im Gespräch (Vol. 2). Stuttgart: Bad Cannstatt.
Giordanetti, P. (1995). Kant und Winkelmann: Beobachtungen zu einer Quelle der Kritik der ästhetischen Urteilskraft. In H. Robinson. Proceedings of the Eighth International Kant Congress. (463-471). Milwaukee: Marquette University Press.
Giordanetti, P. & Mazzocut-Mis, M. (eds.) (2005). I Luoghi del Sublime modern. Milano: Led on Line.
Gonçalves, R. G. C. (2016). Kant, Greenberg e a questão do formalismo na arte. Salvador: EDUFBA.
Henrich, D. (1982). Beauty and Freedom. Schiller´s Struggle with Kant´s Aesthetic. In T. Cohen & P. Guyer (eds.) Essays in Kant´s Aesthetics. (237-257). Chicago: University of Chicago Press.
Kant, I. (1900 ss.). Kants gesammelte Schriften. hg. von der Königlich Preußischen Akademie der Wissenschaften und ihren Nachfolgern. Berlin.
Lauth, R. (1962). Vorwort. In R. Lauth & H. Gliwitzky (eds.) Esammtausgabe der Bayerischen Akademie der Wissenschaften. (3-19). Stuttgart: Bad Cannstadt.
Lauth, R., & Gliwitzky, H. (eds.) (1962). Esammtausgabe der Bayerischen Akademie der Wissenschaften. Stuttgart: Bad Cannstadt.
Makkreel, R. (1984). Imagination and Temporality in Kant´s Theory of the Sublime. Journal of Aesthetics and Art Criticism, 42, 303-315.
Mathy, D. (1989). Zur frühromantischen Selbstaufhebung des Erhabenen im Schönen. In C. Pries. Das Erhabene. Zwischen Grenzerfahrung und Größenwahn. (143-164). Weinheim: Acta Humaniora.
Tomasi, G. (1997). Significare con le forme. Valore simbolico del bello ed espressività della pittura in Kant. Ancona: Il Lavoro Editoriale.