Artículos
Nicolás de Oresme y su interpretación del derecho natural aristotélico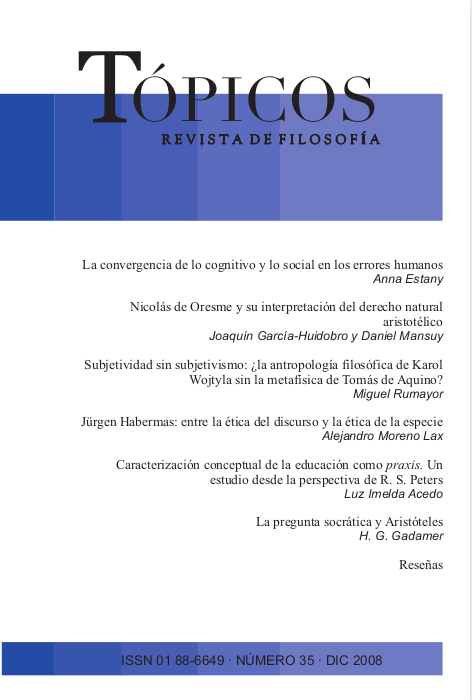 Publicado 2013-11-28
Palabras clave
Cómo citar
Mansuy, J. G.-H. / D. (2013). Nicolás de Oresme y su interpretación del derecho natural aristotélico. Tópicos, 35(1), 37–56. https://doi.org/10.21555/top.v35i1.137
Descargas
Los datos de descargas todavía no están disponibles.
Altmetrics
Citas
Resumen
La traducción francesa de la Ética a Nicómaco que llevó a cabo Nicolás Oresme en el siglo XIV incluye unas interesantes notas explicativas del texto aristotélico. En este trabajo se expone su interpretación del pasaje de EN V 7, 1134b18-1135a5, donde se distingue entre la justicia natural y la convencional. Si bien Oresme está influido por Tomás de Aquino, su comentario muestra gran independencia de juicio y constituye un ejemplo muy interesante del tránsito entre el mundo medieval y el moderno.
Referencias
Babbit, S. (1977). The livre de politiques of Nicole Oresme and the Political Thought and Political Development of the Fourteenth Century. PhD thesis. New York: Cornell University.
Bravo, B. (1989). Derecho Común y Derecho Propio en el Nuevo Mundo. Santiago: Editorial Jurídica de Chile.
Brückle, W. (2005). Civitas Terrna. Staatsrepräsentation und politischer Aristotelismus in der französischen Kunst 1270-1380. München und Berlin: Deutscher Kunstverlag.
Clagett, M. (1964). Nicole Oresme and Medieval scientific thought. En Proceedings of the American Philosophical Society, 108: 298-309.
Delisle, L. (1869). Observations sur plusieurs manuscrits de la Politique et de l'Économique de Nicole Oresme. Paris.
Di Liscia, D. (1992). Aceleración y caída de los graves en Oresme (parte I). En Patristica et Mediaevalia, 13: 61-84.
____ (1993). Aceleración y caída de los graves en Oresme (parte II). En Patristica et Mediaevalia, 14: 41-55.
Durand, D. (1941). Nicole Oresme and the Medieval Origins of Modern Science. En Speculum, 16: 298-309.
García-Huidobro, J. (1993). Razón práctica y derecho natural. El iusnaturalismo de Tomás de Aquino. Valparaíso: Edeval.
Gewirth, A. (1951). Marsilius of Padua and Medieval Political Philosophy. New York: Columbia University Press.
Gregorio, F. (2008). Frankreich im 14. Jahrhundert: Nicole Oresme. En Politischer Aristotelismus. Die Rezeption der aristotelischen Politik von der Antike bis zum 19. Jahrhundert. Stuttgart und Weimar: J. B. Metzler.
Grignaschi, M. (1960). Nicolas Oresme et son commentaire à la Politique d'Aristote. En Publications universitaires de Louvain, 23: 167-185.
Knops, J. P. (1953). Études sur la traduction française de la Morale à Nicomache d'Aristote par Nicole Oresme. Gravenhage: Excelsior.
Lewis, E. (1963). The 'Positivism' of Marsiglio of Padua. En Speculum, 38: 552-564.
Maréchal, D. (2006). Autour de Nicole Oresme, un savant du XIV siècle. Caen: Archives departamentales du Calvados.
Marisilio de Padua (1989). Defensor Pacis, II, 12, 7. L. Martínez (trad.) Madrid: Tecnos.
Massini, C. I. (1983). El derecho subjetivo: ¿realidad universal o histórica? Consideraciones a partir de na tesis de Michel Villey. En Prudentia Iuris, 9.
Miethke, J. (1993). Las ideas políticas en la Edad Media. Buenos Aires: Biblos.
Oresme, N. (1910). Le libre de Ethiques d'Aristote. A. D. Menut (ed.) Nueva York: G. E. Stecuert & Co., Publishers.
____ (1952). Livre des divinacions. Cambridge, MA: Harvard University Press.
____ (1970). Le livre de Politiques d'Aristote. A. D. Menut (ed.) Philadelphia: Transactions of the American Philosophical Society.
Pacaut, M. (1958). La permanence d'une via media dans les doctrines politiques de l'Église Médiévale. En Cahiers d'histoire publiés par les universités de Clermont-Lyon-Grenoble, 4: 327-357.
Quillet, J. (1998). La philosophie politique de Marsile de Padoue. Paris: J. Vrin.
____ (1988). Nicole Oresme traducteur d'Aristote. En Nicolas Oresme: tradition et innovation chez un intellectuel du XIVº siecle. Paris: Les belles lettres.
Rabbi-Baldi, R. (1990). La filosofía jurídica de Michel Villey. Pamplona: EUNSA.
Shahar, S. (1970). Nicolas Oresme, un penseur politique indépendant de l'entourage du roi Charles V. En L'information historique, 32.
Shermann, C. R. (1995). Imaging Aristotle. Verbal and Visual Representation in Fourteen-Century France. Berkeley, Los Angeles and London: University of California Press.
Sol, S. (1970). Nicolas Oresme, un penseur politique indépendant de l'entourage du roi Charles V. En L'information historiquem 32.
Souffrin, P. (1990). La quantification du mouvement chez les scolastiques. La vitesse instantanée chez Nicole Oresme. En Autour de Nicole Oresme. J. Quillet (ed.) Paris: Université de Paris XII.
Straus, L. (1971). Natural Right and History. Chicago and London: The University of Chicago Press.
Suárez, F. (1967). Tratado de las leyes y de Dios Legislador en diez libros. J. R. Muniozguren (trad.) Madrid: Instituto de Estudios Políticos.
Tuck, R. (1979). Natural Rights Theories. Their Origin and Development. Cambridge: Cambridge University Press.