Artículos
Pan sin gluten ¿necesidad o tendencia? : los retos que su elaboración implica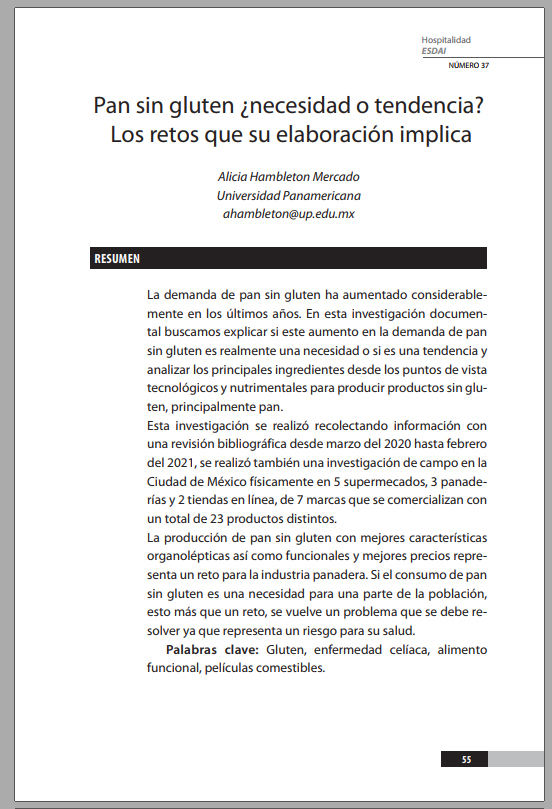 Publicado 2020-01-01
Palabras clave
Cómo citar
Hambleton Mercado, A. (2020). Pan sin gluten ¿necesidad o tendencia? : los retos que su elaboración implica. HE, (37), 55–82. Recuperado a partir de https://revistas.up.edu.mx/ESDAI/article/view/2239
Descargas
Los datos de descargas todavía no están disponibles.
Resumen
La demanda de pan sin gluten ha aumentado considerablemente en los últimos años. En esta investigación documental buscamos explicar si este aumento en la demanda de pan sin gluten es realmente una necesidad o si es una tendencia y analizar los principales ingredientes desde los puntos de vista tecnológicos y nutrimentales para producir productos sin gluten, principalmente pan. Esta investigación se realizó recolectando información con una revisión bibliográfica desde marzo del 2020 hasta febrero del 2021, se realizó también una investigación de campo en la Ciudad de México físicamente en 5 supermecados, 3 panaderías y 2 tiendas en línea, de 7 marcas que se comercializan con un total de 23 productos distintos. La producción de pan sin gluten con mejores características organolépticas así como funcionales y mejores precios representa un reto para la industria panadera. Si el consumo de pan sin gluten es una necesidad para una parte de la población, esto más que un reto, se vuelve un problema que se debe resolver ya que representa un riesgo para su salud.
Referencias
Alimentación sana. (s. f.). World Health Organization. Recuperado 20 de enero de 2021, de https://www.who.int/es/news-room/fact-sheets/detail/healthy-diet
Altamirano-Fortoul, R., Moreno-Terrazas, R., Quezada-Gallo, A. & Rosell, C. M. (2012). Viability of some probiotic coatings in bread and its effect on the crust mechanical properties. Food Hydrocolloids, 29(1), 166-174. https://doi.org/10.1016/j.foodhyd.2012.02.015
Alvarez-Jubete, L., Wijngaard, H., Arendt, E. & Gallagher, E. (2010). Polyphenol composition and in vitro antioxidant activity of amaranth, quinoa buckwheat and wheat as affected by sprouting and baking. Food Chemistry, 119(2), 770–778. https://doi.org/10.1016/j.foodchem.2009.07.032
Becari, J.B., (1745). De Frumento. Bononia: De Bonononiensi Scientifiarurm et Atrium atque Academi Commentarii. Tomi secundi.
Black, I. & Campbell, C., (2006). Food or Medicine. Choice factors for functional foods. Journal of Food Products Marketing, (12)3, 19-27.
Cascella, N. G., Kryszak, D., Bhatti, B., Gregory, P., Kelly, D. L., Mc Evoy, J. P., Fasano, A. & Eaton, W. W. (2009). Prevalence of Celiac Disease and Gluten Sensitivity in the United States Clinical Antipsychotic Trials of Intervention Effectiveness Study Population. Schizophrenia Bulletin, 37(1), 94-100. https://doi.org/10.1093/schbul/sbp055
Canainpa - Panaderos de México. (s. f.). CANAINPA. Recuperado 10 de septiembre de 2020, de http://www.canainpa.com.mx/varios/historia.asp
Center for Food Safety and Applied Nutrition. (2020, 12 agosto). Gluten-Free Labeling of Foods. U.S. Food and Drug Administration. https://www.fda.gov/food/food-labeling-nutrition/gluten-free-labeling-foods
Dicke, W.K., (1950). Coeliac disease. Investigation of the harmful effects of certain types of cereal on patients with coeliac disease. Tesis para el grado de doctor. Facultad de Medicina. Universidad de Utrecht. Países bajos.
FAO. (2015). CODEX ALIMENTARIUS. International Food Standards. Standard for foods for special dietary use for persons intolerant to gluten. (CODEX STAN 118-1979). Amendment: 1983 and 2015. Revision: 2008, de http://www.fao.org/fao-who-codexalimentarius/sh-proxy/en/?lnk=1&url=https%253A%252F%252Fworkspace.fao.org%252Fsites%252Fcodex%252FStandards%252FCXS%2B118-1979%252FCXS_118e_2015.pdf
Foschia, M., Horstmann, S., Arendt, E. K., & Zannini, E. (2016). Nutritional therapy – Facing the gap between coeliac disease and glutenfree food. International Journal of Food Microbiology, 239, 113-124. https://doi.org/10.1016/j.ijfoodmicro.2016.06.014
Fox, B. A. (2012). Ciencia de los alimentos: Nutrición y salud (1a. ed.). LIMUSA.
Gallagher, E., Gormley, T. & Arendt, E. (2003). Crust and crumb characteristics of gluten free breads. Journal of Food Engineering, 56(2), 153–161. https://doi.org/10.1016/S0260-8774(02)00244-3
Gee, S.J., (1888). On the celiac affection. St. Bartholomew´s Hospital Reports. (24), 17-20.
Google Académico. (s. f.). Google Scholar. Recuperado 10 de octubre de 2020, de https://scholar.google.com/schhp?hl=es&as_sdt=0,5
Hadjivassiliou, M., Sanders, D. D. & Aeschlimann, D. P. (2015). GlutenRelated Disorders: Gluten Ataxia. Digestive Diseases, 33(2), 264-268. https://doi.org/10.1159/000369509
Hambleton, A., Debeaufort, F., Bonnotte, A. & Voilley, A. (2009). Influence of alginate emulsion-based films structure on its barrier properties and on the protection of microencapsulated aroma compound.
Food Hydrocolloids, 23(8), 2116-2124. https://doi.org/10.1016/j.foodhyd.2009.04.001
Horstmann, S. W., Axel, C. & Arendt, E. K. (2018). Water absorption as a prediction tool for the application of hydrocolloids in potato starch-based bread. Food Hydrocolloids, 81, 129-138. https://doi.org/10.1016/j.foodhyd.2018.02.045
Kohn, A., Camastra, C., Monterubbianesi, R. & Rizzi, M. (2010). Clinical presentation. In: Tersigni, R., Prantera, C., (Eds), Chron´s disease. Springer, Milan, pp.43-51.
Krochta, J. M., Balwin, E. A. & Nisperos-Carriedo, M. (1994). Edible Coatings and Films to Improve Food Quality (1a ed.). Crc Pr I Llc.
Lebwohl, B. & Rubio-Tapia, A. (2021). Epidemiology, Presentation, and Diagnosis of Celiac Disease. Gastroenterology, 160(1), 63-75. https://doi.org/10.1053/j.gastro.2020.06.098
Martínez, M. M. & Gómez, M. (2017). Rheological and microstructural evolution of the most common gluten-free flours and starches during bread fermentation and baking. Journal of Food Engineering, 197, 78-86. https://doi.org/10.1016/j.jfoodeng.2016.11.008
Masure, H. G., Fierens, E. & Delcour, J. A. (2016). Current and forward looking experimental approaches in gluten-free bread making research. Journal of Cereal Science, 67, 92-111. https://doi.org/10.1016/j.jcs.2015.09.009
Matricardi, P. M., Bockelbrink, A., Beyer, K., Keil, T., Niggemann, B., Grüber, C., Wahn, U. & Lau, S. (2008). Primary versus secondary immunoglobulin E sensitization to soy and wheat in the Multi-Centre Allergy Study cohort. Clinical & Experimental Allergy, 38(3), 493-500. https://doi.org/10.1111/j.1365-2222.2007.02912.x
Mexicana, N. O. NOM-086-SSA1-1994. Bienes y servicios. Alimentos y bebidas no alcohólicas con modificaciones en su composición. Especificaciones nutrimentales.
Naqash, F., Gani, A., Gani, A. & Masoodi, F. A. (2017). Gluten-free baking: Combating the challenges - A review. Trends in Food Science & Technology, 66, 98-107. https://doi.org/10.1016/j.tifs.2017.06.004
Norouzbeigi, S., Vahid-Dastjerdi, L., Yekta, R., Sohrabvandi, S., Zendeboodi, F., & Mortazavian, A. M. (2020). Celiac therapy by administration of probiotics in food products: a review. Current Opinion in Food Science, 32, 58-66. https://doi.org/10.1016/j.cofs.2020.01.005
Oxentenko, A.S. & Rubio-Tapia, A. (2019). Celiac disease. Mayo clinic proceedings. (94), 2556-2571.
Ojetti, V., Nucera, G., Migneco, A., Gabrielli, M. Lauritano, C., Danese, S., Assunta Zocco, M., Nista, E. C., Cammarota, G., de Lorenzo, A., Gasbarrini, G., & Gasbarrini, A. (2005). High Prevalence of Celiac Disease in Patients with Lactose Intolerance. Digestion, 71(2), 106-110. https://doi.org/10.1159/000084526
Polo, A., Arora, K., Ameur, H., Di Cagno, R., De Angelis, M., & Gobbetti, M. (2020). Gluten-free diet and gut microbiome. Journal of Cereal Science, 95, 103058. https://doi.org/10.1016/j.jcs.2020.103058
Quaglia, G., (1991). Ciencia y Tecnología de la Panificación. Zaragoza, España. Ed. Acribia.
Remes-Troche, J.M., Uscanga-Domínguez, L.F., Aceves-Tavares, R.G., Calderón de la Barca, A.M., Carmona-Sánchez, R.I., Cerda-Contreras, E., Coss-Adame, E., Icaza-Chávez, M.E., López-Colombo, A., MikeGarcía, M.P., Morales-Arámbula, M., Peláez-Luna, Ramos-Martínez, P., Sánchez-Sosa, S., Treviño-Mejía, M. C., Vázquez-Frías, R., Worona Dibner Zamora-Nava, L. B. & Rubio-Tapia, A. (2018). Guía clínica para diagnóstico y tratamiento de la enfermedad celíaca en México.Revista de Gastroenterología de México. (83) 4,434-450. https://doi.org/10.1016/j.rgmxen.2018.09.007
Roberfroid, M. B. (1999). What is beneficial for health? The concept of functional food. Food and Chemical Toxicology, 37(9-10), 1039-1041. https://doi.org/10.1016/s0278-6915(99)00080-0
Sabanis, D. & Tzia, C. (2011). Effect of hydrocolloids on selected properties of gluten-free dough and bread. Food Science and Technology International, 17(4), 279-291. https://doi.org/10.1177/1082013210382350
Sahagún, M. & Gómez, M. (2018). Assessing Influence of Protein Source on Characteristics of Gluten-Free Breads Optimising their Hydration Level. Food and Bioprocess Technology, 11(9), 1686-1694. https://doi.org/10.1007/s11947-018-2135-0
Singh, P. Arora, A., Strand, T. A., Leffler, D. A., Catassi, C., Green, P. H., Kelly, C. P., Ahuja, V. & Makharia, G. K. (2018). Global Prevalence of Celiac Disease: Systematic Review and Meta-analysis. Clinical Gastroenterology and Hepatology, 16(6), 823-836.e2. https://doi.org/10.1016/j.cgh.2017.06.037
Statista. (2020, 26 noviembre). Gluten-free food market size worldwide 2017-2026. https://www.statista.com/statistics/884827/global-gluten-free-food-market-size/
Thompson, T., Lee, A. & Grace, T. (2010). Gluten Contamination of Grains, Seeds, and Flours in the United States: A Pilot Study. Journal of the American Dietetic Association. 110(6), 937–940. https://doi.org/10.1016/j.jada.2010.03.014
Witczak, M., Juszczak, L. ł., Ziobro, R. ł. & Korus, J. ł. (2012). Influence of modified starches on properties of gluten-free dough and bread. Part I: Rheological and thermal properties of gluten-free dough. Food Hydrocolloids, 28(2), 353-360. https://doi.org/10.1016/j.foodhyd.2012.01.009
Weijers, H. A., Van de Kamer, J. H. & Dicke, W. K. (1957). Celiac disease. Advances in Pediatrics. (9) ,277-318. PMID: 13394422.